WEATHER PEOPLE in concert!
Thanks to a 2023 'Creativity Grant' from MSAC (Maryland State Arts Council), The Weather People will be presenting a series of concerts this coming June/July with a focus on Western Maryland venues. We'll have some new music to present in a new way! Dates and venues will be posted here as they are confirmed. (more concerts to be announced!)
July 2, Frostburg, MD - Clatter Cafe, 1pm https://clattertogo.square.site/
July 8, Frederick, MD - 'Y' Arts Center, 4pm https://frederickymca.org/introducing-the-new-ymca-arts-center
We just finished performing two concerts for the Loudoun County, VA library system. Thanks to all who came out and listened! Excellent audiences! The Weather People will be back there in the upcoming fall/winter/holiday season for some more music. Looking forward to it!
The Weather People
The album 'Current Conditions'  is now out, and is available for purchase as either CD or digital download.
 I'm so pleased at how this project turned out for us, 'The Weather People': Adam Hanlin (trumpet), Anita Thomas (tenor sax), Howard Burns (alto/sop sax), and myself on trombone.
Influences include jazz, rock, Latin, classical/art music as performed by James Brown, Blood Sweat and Tears, Earth Wind and Fire, Chicago, Stravinsky, John Williams, Mozart, Tito Puente, Duke Ellington, Wayne Shorter, and many others.
For more information about  'The Weather People'
CURRENT PROJECTS
- Guitarist Candice Mowbray has commissioned me to arrange the beautiful old John Dowland lute song "Lachrimae Pavane", a.k.a. 'Flow My Tears', for her to perform with string quartet.
This one has kept me awake at nights, and brought out every 'procrastination technique' I've been guilty of. Mostly, I've spent a lot of time just wondering how I can do justice to this beautiful, haunting melody which will be performed by such a wonderful musician and guitarist.
A composer friend of mine in London (Mike Hewer) said that he is envious of my task, and then proceeded to send me links to numerous renderings and arrangements of the Dowland tune that have been undertaken through the ages. (Yeah...thanks Mike!...but I don't know if I'm in the same league as Benjamin Britten! You are!)
But, I am starting to like what I'm coming up with, and the arrangement has been revealing itself to me!
(note to Candice...I'm also finished!)
Delaplaine Arts Center in Frederick, MD is featuring my music the month of July.
As you visit the various galleries, you'll hear a selection of music I compiled for them to play over their music system.
A big thanks to them for promoting local artists and composers!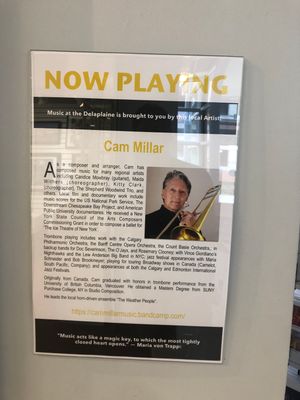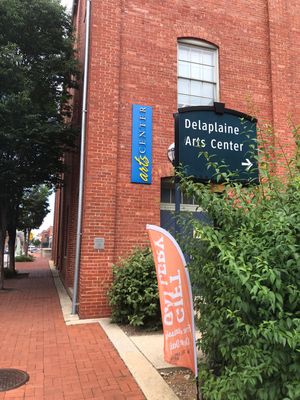 - the guitar duo of Candice Mowbray and Danny Webber have recently been performing "Winter Dance", which I composed for them this past January. The music has seen performances at the Shippensburg University Chapel Series of concerts as well as the Springfield Presbyterian Church Music Concert Series in Sykesville, MD and the Hagerstown Public Library Music Concert Series.
- MAD Dance has commissioned me to create a soundscore for their latest project, which will be shown June 25 in Frederick, MD.
We are collaborating with poet/artist/climate advocate Neha Misra for this fascinating project.
Stay tuned for more!
Post show news: we had a very successful show with a great audience, who participated in a post-show Q&A.
As part of the show, I scored a film which was integral to the dance. I'll post some of it very soon so you can see the work of Kitty Clark and Ray Shaw (MAD Dance).